The Mood Media Approach to In-Store Media Marketing
How can you deliver specific messages to specific audiences in specific locations using minimal resources in a manner you can tailor easily and deliver it instantly? With in-store media, of course!
While our in-store media delivers and manages content, you still need a future-proofed digital signage solution. It's why we adopt a consultative approach built around a solid content strategy for an end-to-end or á la carte solution. We cover everything from hardware and software to content, operational and maintenance support, all of which are supported by a National Service Network of almost 500 technicians.
Mood Media Digital In-Store Media Systems:
MVision Player and Portal
MVision is our media player and the online portal for delivering, creating, accessing, loading and controlling content is MVision. The player receives content that plays back on displays – which Mood Media can provide.
MVision is perfect for small/medium-sized businesses in the hospitality, restaurant/bar, medical/dental and retail industries with up to 25 locations that are in need of a simple, low-cost digital signage to replace costly on-site printed signs and local ad campaigns.
MVision uses a hosted network service, charges no software/training fees and includes all creation, scheduling and editing tools, making it affordable. Its searchable template and feed library supports most formats and Mood Media can create custom content if needed for an additional cost. Setup is easy and if you have screens, power and ports in place, you can plug-and-play immediately. You can also manage the system online for your convenience.
Mvision uses store-and-forward solution technology to prevent gaps during internet downtime, and with performance and status monitoring, encryption and authentication technologies and automatic firmware updates, it almost runs itself!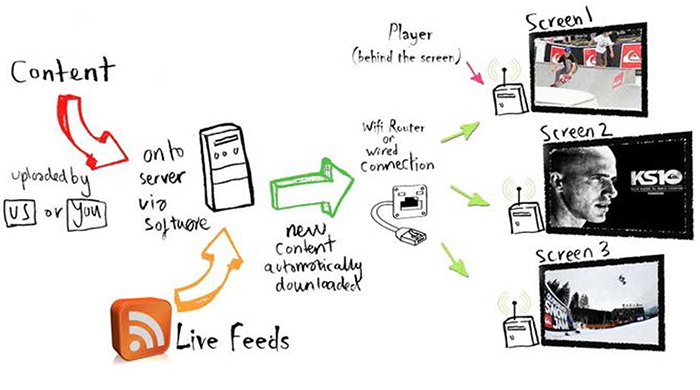 Mood TV
Mood TV combines short-form TV programming with digital signage content and supports short-form television programming, RSS feeds, social media feeds, brand-specific images and commercials and client-specific coupons.
(Quick-Service Restaurants) is a digital menu that can display information from any web enabled device with corporate, regional and local inputs. It has built-in fail-over capabilities to keep it running 24/7.
Mood TV Music Videos consists of over 18 music video programs that integrate over 60 hours of music with marketing messages..
Mood TV with Yahoo! Screen consists of over 750 videos of content featuring a family friendly mix, tips and trends, content for adult women and content for adult men.
Mood TV with Atmospherics consists of 9 video programs of HD imagery without audio, filmed exclusively for Mood Media.